About the practice
South Shore Orthopedics, located in the competitive south metropolitan area of Boston, Massachusetts in a town called Hingham, is a top-notch orthopedic practice resulting from the merger of two formerly well known and respected practices.
After the merger, it was vital for South Shore Orthopedics to relay the message that they are not only one of the most comprehensive and experienced orthopedic practices in the area, but that their commitment and focus to their patients was unwavering.
In 2016, the busy 16 provider orthopedics practice turned to TargetMarket for assistance in getting this message across while bringing their website and internet presence to the next level.
Problems Presented
When South Shore Orthopedics first reached out to TargetMarket, the number one complaint regarding their current website was that it was very static and not overly aesthetically appealing. At the time, their website did not portray the message of "we are the best" to entice potential patients to schedule with them over the "big city" competitors.
Ensuring that the website was informative, user-friendly, eye-catching, modern, and really embodying everything a patient would need was key in order to keep the local patients local, as well as draw patients from closer to Boston. Lastly, it was vital for South Shore Orthopedics to partner with an agency that was communicative, comprehensive, and would be an extension of their practice to ensure there was a true understanding of their needs.
Strategy
TargetMarket began the partnership with South Shore Orthopedics by focusing first and foremost on a new website design. To begin this process, there was a series of phone calls to ensure the team had a solid understanding of the practice goals, wants, and needs for the design project. Communication throughout the process was key.
Following an in-depth kick-off call which covered questions regarding vision, competitor marketing differentiators, and key homepage features, TargetMarket presented South Shore with four varied homepage design concepts.
From there, two rounds of edits were completed in order to solidify a strong website foundation. Next, the TargetMarket team looked at the goals, history, and needs of the practice to produce 4 strong rotational graphics, known as homepage sliders, with key marketing messages and clear calls to action.
Throughout the design process, the TargetMarket content writer worked closely with South Shore to produce quality and practice-specific content that would later be beneficial for internet marketing efforts. South Shore's previous site quality lacked content, which was key in addressing South Shore's desire for an informative website, as well increasing site traffic.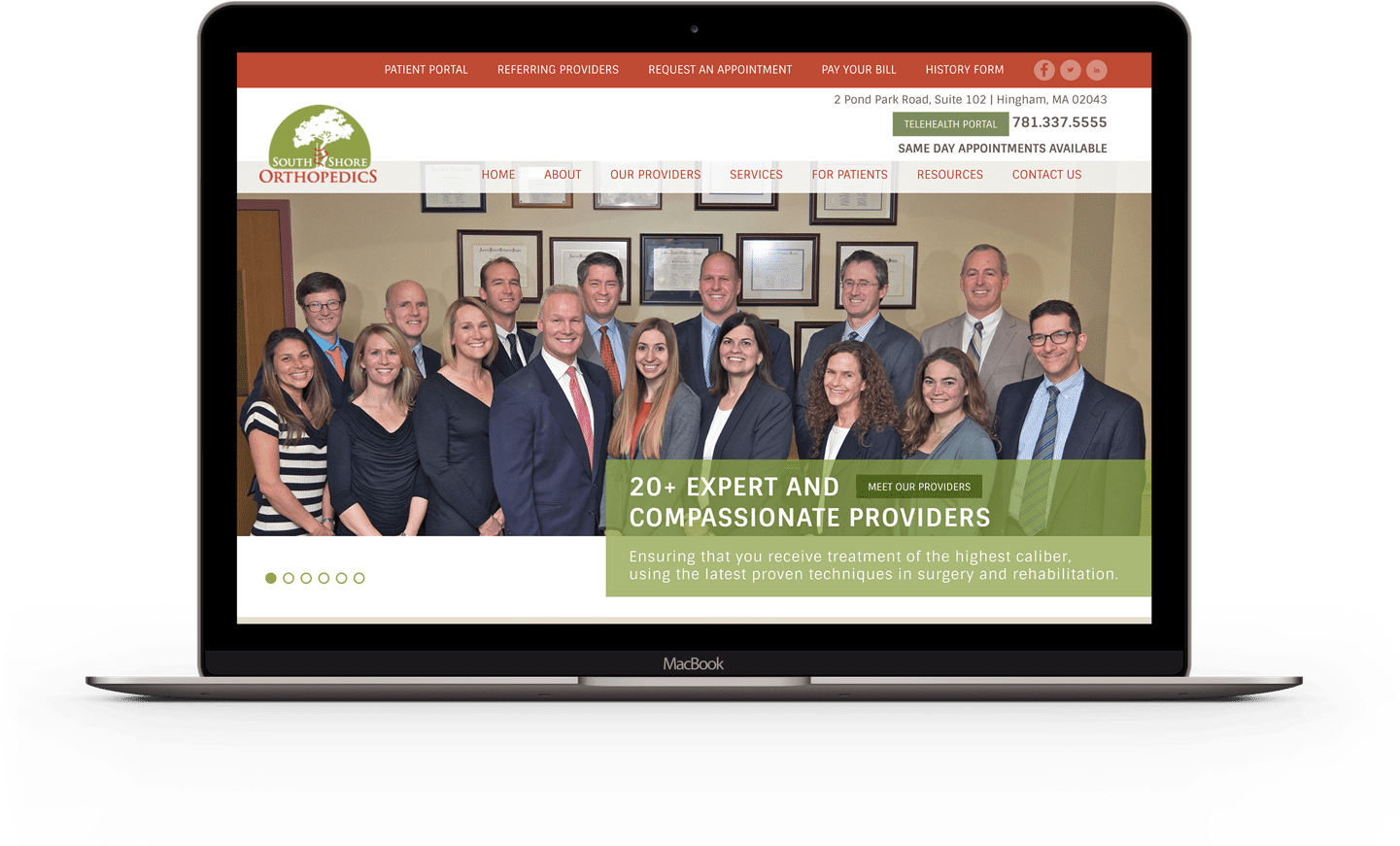 To overcome the challenges foreseen on South Shore's original website, TargetMarket included the following on the new website:
An overall, more aesthetically appealing look: This was accomplished by using brighter and more crisp colors that were in line with the overall branding, strategic placement of strong graphics, advanced design techniques, and related images.
Greater functionality to alleviate the static feel: Using a responsive design, the site visitor is met with a large eye-catching slider, rotating testimonials and "Did You Know" facts,as well as speciality image and text hover functionalities.
All important information found easily on the homepage: This was vital in order to meet the need of being user friendly for their varied target audience. Originally, there was no easy way to contact the practice — no phone number at the top of the homepage, for example. Now, the site has all pertinent information in an easy to find location.
Modern, high tech feel: The inclusion of an interactive and informative "where does it hurt" section allows for patients to hover over their area of pain and receive corresponding information. To ensure patients get the most of their visit to the website, TargetMarket included these other key features:

HIPAA compliant forms, such as request appointments, patient registration, referring providers, etc., all submitted directly via the website.
Customized provider bio pages which include bio, reviews, videos, and success stories all in one place.
Facebook newsfeed
Blog
Results
As a team, South Shore Orthopedics and TargetMarket produced a modern, user-friendly, and informative website to attract their patients and portray the message of being one of the best and comprehensive practices in the Boston area.
At the completion of the project, South Shore had this to say about TargetMarket:
"We contracted with TargetMarket to help us re-launch our website and grow our orthopedic practice. We are very pleased with how the website turned out and the process worked very smoothly. Since the launch of the new site we have worked more closely with TargetMarket on SEO, Blogging and PPC Advertising. We continue to see an increase in new patient volume, traffic to the site and increased satisfaction of patients through the content that we are able to provide for them. The staff at TargetMarket have consistently been professional, reliable and communicative. A great business partner!"