About
Wake Endoscopy is an independent medical facility and medical practice. They utilize a team approach with professional staff that strives to provide compassionate, confidential, scientific-based, and cost-effective care to each individual in a welcoming environment.
Goal
Wake Endo's ultimate goal is to provide patients with diagnostic and therapeutic care while using the latest in procedures and treatment as they strive to enhance and maintain the quality of life of their patients. To help reach this over-arching goal, TargetMarket worked to improve its website, social media marketing, and online reputation and to solidify the practice as an expert in the field through monthly unique and well-researched blog content.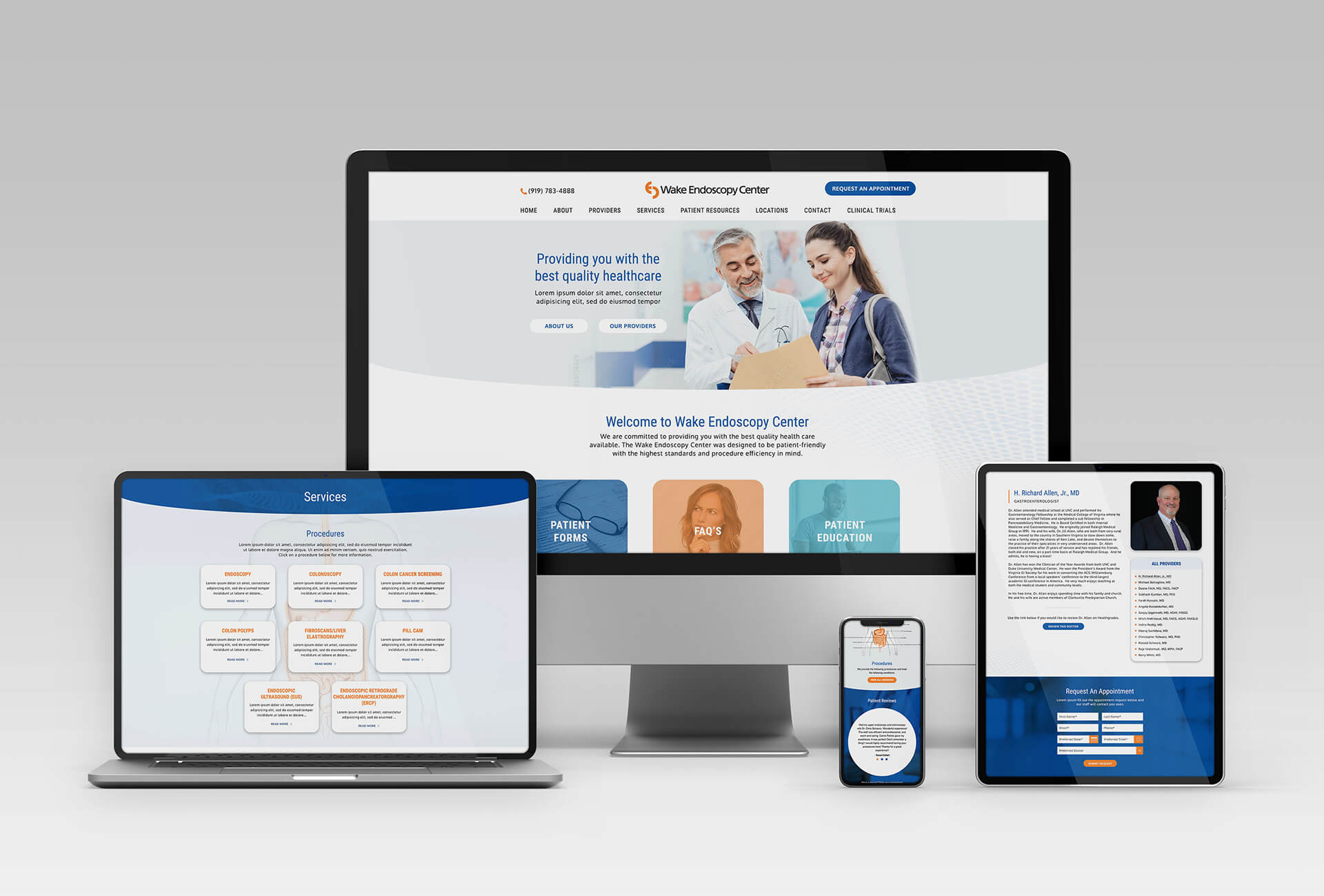 Website Design
When creating Wake Endo's website, our team prioritized creating an easy user experience and a clear, straightforward design. Along with a user-friendly website, it was also important to maintain good SEO practices using custom monthly blogs. In addition to updating the old website, our development team created a built-in patient portal for increased functionality.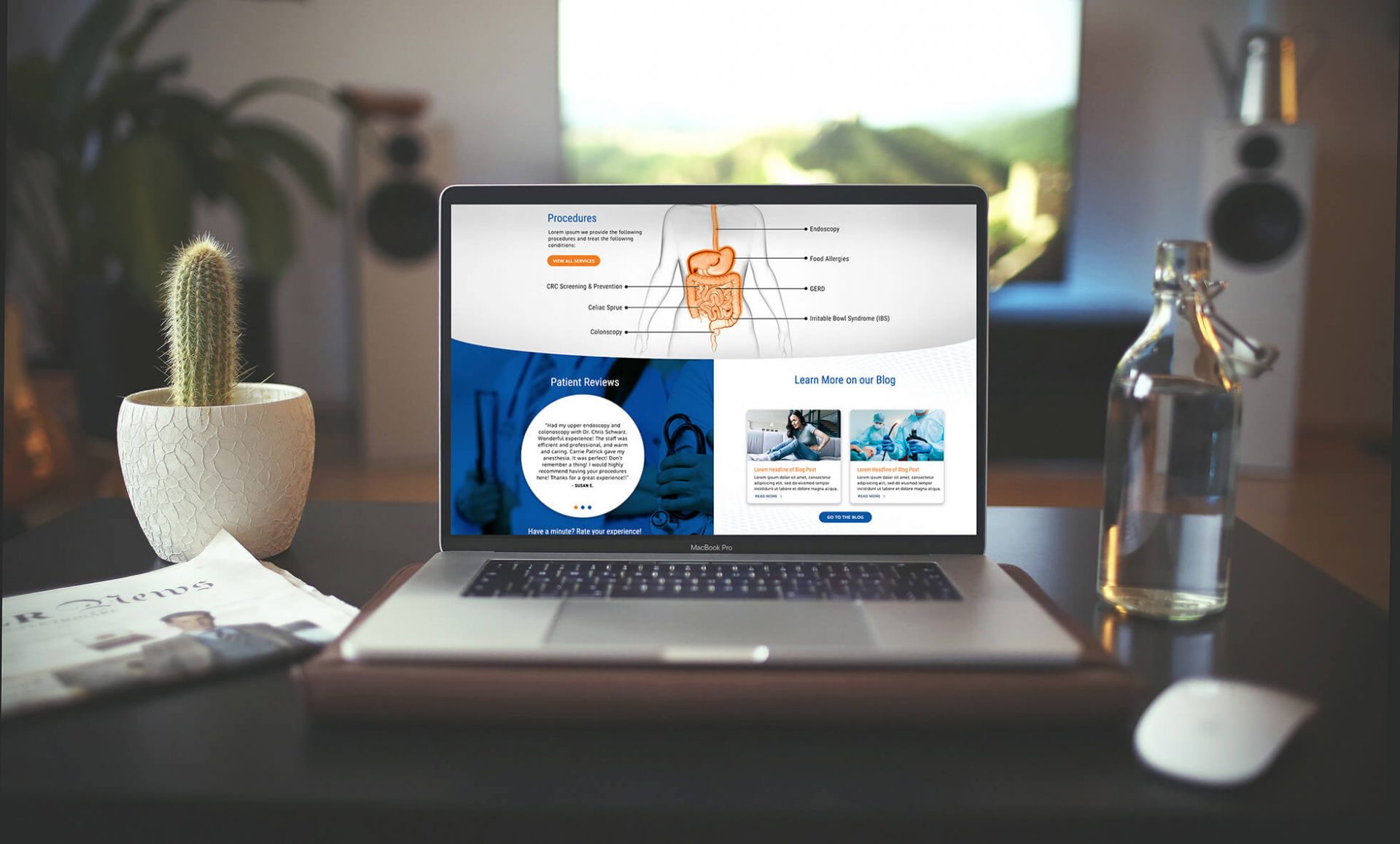 Website
Metrics
Website trafic increased
from our Google ads by

Users
Increased by

Sessions
Increased by

Pageviews
Increased by
Paid Ads
Wake Endoscopy has five different locations, so it was important to get in front of patients in the area. Our paid ad strategy consisted of Google Ads for Wake Endo starting at the end of May 2022, with June being the first full month at a budget of $1,000. The main goal of the ads is to raise awareness of services and get in front of potential new patients to book appointments by calling the office directly or filling out a form online. We are currently running three campaigns to achieve these goals: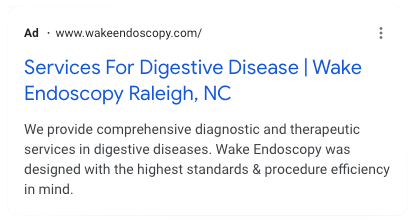 General Branded: This campaign bids on keywords directly related to Wake Endo and general industry terms
Colonoscopy/Endoscopy: This campaign bids on keywords directly related to their Colonoscopy and Endoscopy services/procedures to educate viewers and hopefully book new patient appointments
Other Services: This campaign has several different ad groups that bid on keywords for other types of procedures the practice performs such as FibroScans, PillCam Endoscopy, ERCP, and EUS.
By bidding on general and specific keywords for the variety of services Wake Endo offers, we are ensuring our ads appear at the top of search results in our target locations when viewers and potential new patients are looking for help or more information in Wake Endo's areas of expertise.
The Results: Paid Search Metrics
Impressions
Created

Average
Clicks

Conversions
by Call

Conversions by Book Appointment Form Fills

CTR
Industry Avg on Google is 3% - 5%

CTR
Industry Avg on Google is 3% - 5%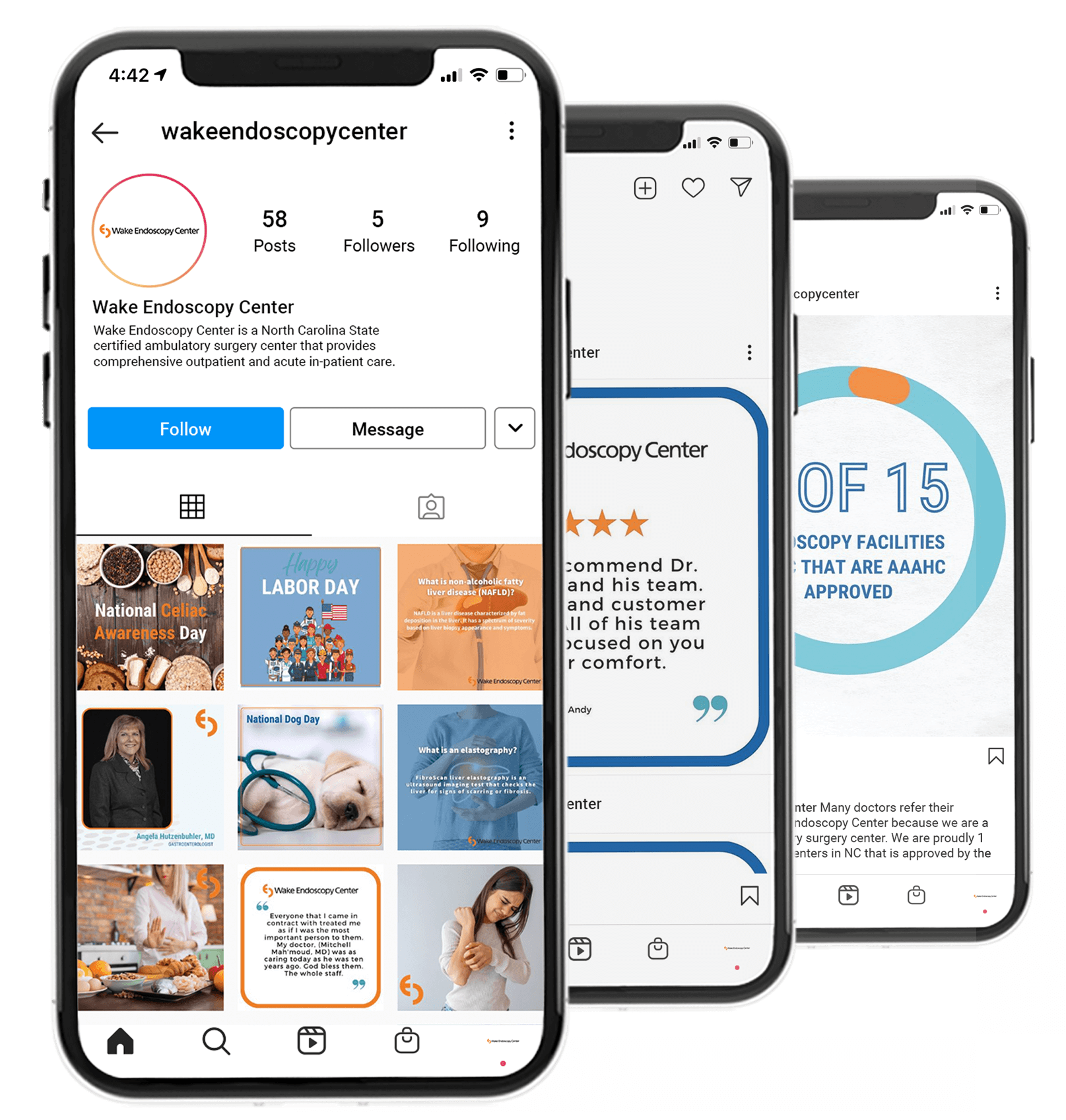 Organic Social
When Wake Endo first signed on with TargetMarket, its social media presence was virtually non-existent. One of our dedicated account managers built Wake Endo's Instagram account from the ground up while delivering 8 monthly posts on both Facebook and Instagram and an additional three posts per month on LinkedIn. Our team ensures that all social media accounts are properly set up and branded to optimize the overall digital presence.