About
Nesting Guide works to promote, empower, and connect women considering pregnancy and provide them with highly curated, time-sensitive data that will educate them to make informed intelligent decisions.
Goal
The ultimate goal that Nesting Guide strives for is to provide a highly curated online directory of maternal health & wellness resources to promote optimal birth outcomes. To become a resource in the prenatal industry, Nesting Guide needed a strong brand and online presence to be able to reach its goals.
Brand Book
We helped Nesting Guide to create a soft, sophisticated, and welcoming aesthetic for the brand with a new logo, supporting graphics, color palette, and fonts. Their target audience is predominantly female, so we considered that when making the selections for their brand. The new logo and color palette helped set the tone for the new website. The client liked the concept of the original logo, but the
artistic aesthetics of it needed some re-working. Our design team used the original concept as inspiration but created a new illustration that had more depth and texture. The eggs are more protected and secure within the nest in this new logo. Our creative director worked to make it look like the nest was not only supported by the branches but made from them as well.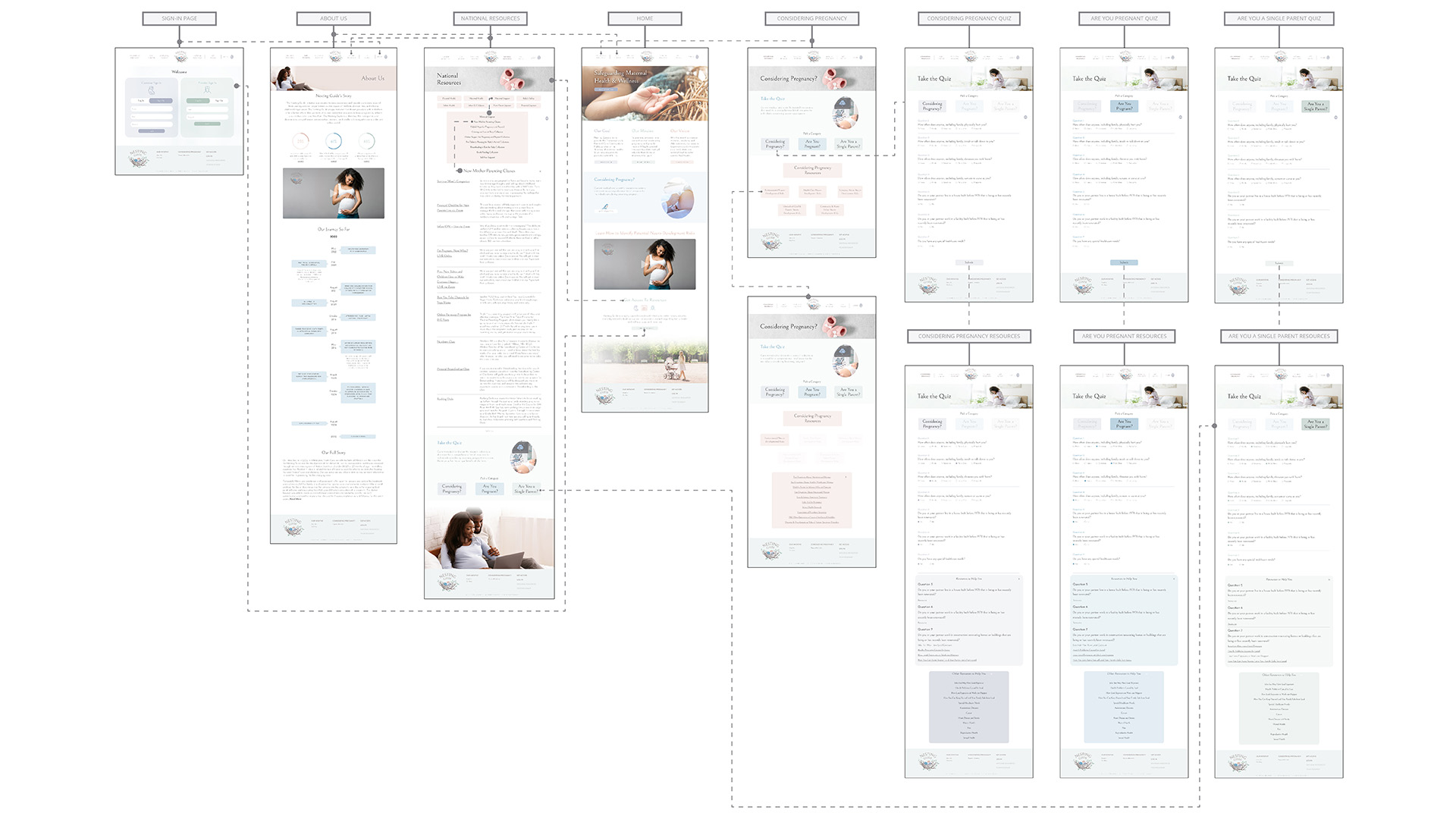 Sitemap &
User Experience
We used a wireframe organizational feature on The Nesting Guide website to exemplify just how complex the information we had to present was. The website also shows the user experience when navigating the questionnaire to get the viewer to the external links and resources that will help them depending on their circumstances. Overall, we made the important information easier to follow by prioritizing user experience above all else.
Website Design &
Development
A custom-coded website allowed Nesting Guide to present a professional digital image and peace of mind knowing that the website was safe and secure. Our design team helped create a soft and welcoming aesthetic for the brand, which consisted of a new logo, supporting graphics, a color palette, and fonts. The end result was a clean, well-branded website that combined pleasing aesthetics with valuable information.
Videography
TargetMarket's video services provided an informative video that serves as one of the primary features on The Nesting Guide's home page. This custom video helps to explain how one can identify potential neuro-developmental risks. This video also serves as an excellent introduction to the woman behind Nesting Guide, Mindy Allen.