As we know, digital marketing isn't a one size fits all. There are various ways to reach and market to your consumer based on industry, your target audience, or even based on current marketing trends. However, not all businesses will want to jump on the bandwagon for each new trend, as they shouldn't, particularly B2B (or business to business) marketing. While B2C (or business to consumer) typically can cast a wider net, B2B tactics tend to be more direct and targeted, as their audience is more niche to their industry.
If your brand is B2B, here are ways to make sure you are reaching your target audience:
Website
First things first. Is your website up-to-date and does your website best represent your business and the service offerings or products you offer? Websites are not a one and done type of product, they need constant nurturing and updates to ensure you are where you want to be within the search engines and so that your products and or services are being represented to the best of your ability.
A website in 2020 should include company information, contact information, links to social media profiles, a contact form to generate leads, product/service information, and a blog, not only for SEO value but also to provide value to your customers and keep them coming back for more. This is particularly true for targeting other businesses. If your website is outdated or not user friendly, this will reflect poorly on your product or service even before your customer has had time to experience it for themself.
So before you start marketing your business on other platforms or social media profiles, make sure your website is up-to-date and something you would be proud to show your customers.
LinkedIn
If you are targeting other businesses, you should absolutely have the following: 1) a fully branded LinkedIn Company Profile, and 2) a personal profile that is filled out and up-to-date.
Company and personal profiles that are not completely filled out or are missing information are more likely to be glossed over in favor of those that have a robust profile. Fully branded profiles showcase that your business is current and gives the customer more information about your product or service upfront without them having to leave the platform.
When we say fully branded, that means taking that time to upload your logo and a cover photo using the correct dimensions LinkedIn suggests, which are 300 x 300 for the logo and 1536 x 768 for the cover photo. Fully branded also means going section by section and ensuring all information is filled out and up-to-date, including an introduction, link to your website, a bio that goes into further detail of who you are as a business and what problem you can help solve, along with any additional pertinent information on the business.
Example of a fully branded business profile: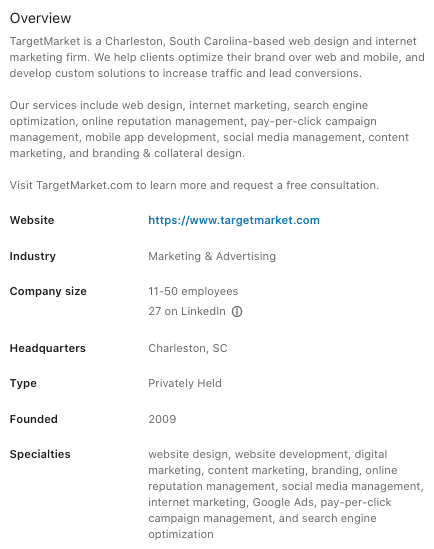 Once your profile is filled out, it's time to start utilizing the platform by posting business updates or industry news that generates value for your business and your audience. Make sure you are using 1 to 3 hashtags per post and include posts that will send your audience back to your website for more information. All posts should be shared by vetted employee profiles to expand the reach of your posts into their network.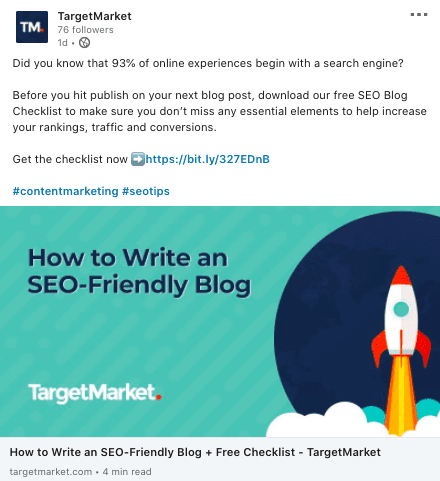 While organic posts are helpful, ads will always get immediate attention. With LinkedIn advertising, you can get hyper-focused targeting, down to industry, location, position, education level, member age, etc. These ads are extremely helpful if you know exactly who you are looking to target. Better yet, LinkedIn has an easy three-step process to get you started in their campaign manager, here.
Facebook
If set up properly, Facebook can act as a second website and provide SEO value to your business. Businesses that are listed on social media will have a bigger digital footprint and are shown as trustworthy because they have additional avenues of communication and ways to get in touch. Much like LinkedIn, you will need to set up a Facebook business page. This page will also need to be fully branded to best represent your business within the platform.
This includes your logo as your profile image with an industry or business-related cover photo image. Remember to include images that fit into Facebook's dimensions (180 x 180 for profile photo and 820 x 462 for cover photo) to avoid your photos from appearing pixelated, which will look out of date and unprofessional. Cover photo images can be a video that best represents your product or service, a static image, or a carousel of images to tell your story. Whatever you decide, make sure that your call to action listed below best fits what you are after, be it direct messages, phone calls, or sending people directly to your website for more information.

There are several ways to utilize SMO or social media optimization within the platform but filling out the about section and also the "Our Story" feature. This is where you can use an additional image that best represents your company and tell your story. Use this section to introduce visitors to your business with industry key terms and information.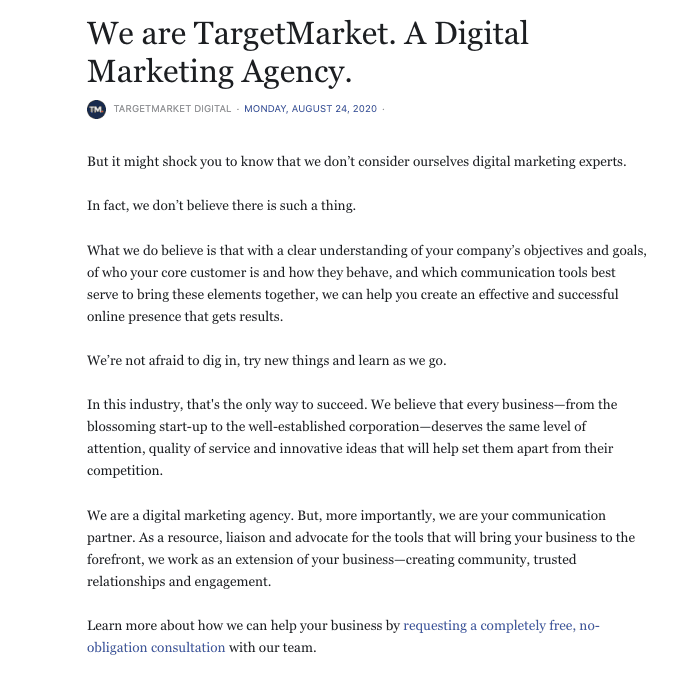 Facebook tabs are a way to take your page to the next level by including additional business information. Add in tabs for a newsletter signup, offers, services, shop, and even link them directly to your blog or other social media profiles, such as LinkedIn. Facebook shop allows you to list out your products directly on the platform, so customers can purchase directly from your page. Find tabs under settings -> templates and tabs.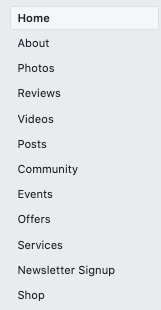 Your Facebook page should be updated regularly with organic posts to either take users back to your website or to provide value for your community. For a B2B targeted page, the updates can be similar to those posted on LinkedIn. We recommend posting company updates, blogs, and industry-related information. If you are going to post graphics, make sure they are branded to your company. If someone shares your posts, your logo will be front and center.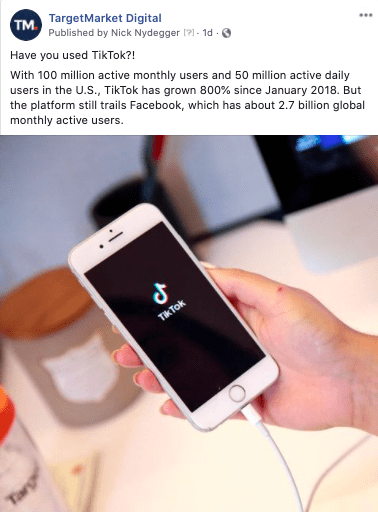 Facebook ads can also be quite valuable to get in front of your audience right away. Facebook ad campaigns include brand awareness, reach, lead generation, conversions, etc. These ads can also target based on a plethora of options, some of which include: age, location, education, interest, industries, generation and income just to name a few. One important targeting tool to note is called creating a lookalike audience. This is based on a list you already have, so if you already have a list of your customers or business leads, you can make a lookalike audience based off of this list to target similar people.
And bonus: Facebook owns Instagram, so even if your business isn't listed on Instagram, you can run ads on Instagram through Facebook to test the waters.
While it can be tempting to join every social media network out there, they are not all going to be worth your while. We always recommend mastering 1 or 2 and then branching out to test the waters further, just make sure not to ignore the platforms that are working for you. If you are finding this is a little too time consuming, that's where we come in. Let us help you get a B2B marketing plan up and running. Click the get started button below!